WEST Dressed
WEST Dressed is the social enterprise of WEST Auckland Enterprise Skills and Training located in Henderson CBD, Auckland.
WEST Dressed sells pre-loved plus size clothing, sizes 16 – 32 from our shop located at the rear of WEST at 9 Henderson Valley Rd, Henderson. We are open every Friday 10am – 2pm. Proceeds from WEST Dressed fund our Plus Sized Clothing Swap Events and our driver education, F Endorsement and OSH Operator Certificate , ESOL and work ready courses in the local community. Please let us know if you would like to donate your plus size clothing to WEST Dressed or our FREE Plus Size Clothing Swap which will be held on 3 November.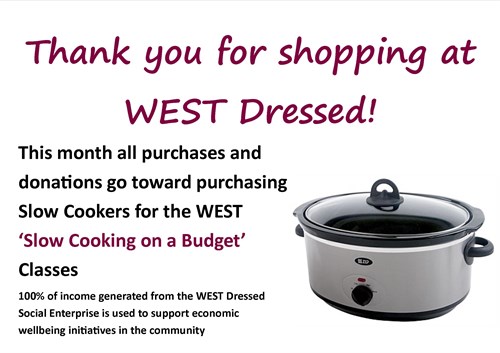 WEST Dressed – the new WEST social enterprise to support the WEST Becoming Financially Fit programmes and workshops
In July 2018 WEST – West Auckland Enterprise Skills and Training ran a Plus Size Clothing Swap event as part of the Becoming Financially Fit series of programmes and workshops. During the event many attendees spoke of the difficulty they had in finding affordable plus size clothing in op shops.  New plus sized clothing is often only available in niche or dedicated plus size clothing stores and therefore much more expensive to purchase than clothing found in stores that only cater for smaller sizes. Accordingly, op shops were sometimes inclined to charge more for plus sized clothing. We asked attendees if it would support their economic wellbeing to have a dedicated plus size clothing op shop that charged a set price per garment. The answer was an overwhelming yes. Attendees said a dedicated plus size op shop would enable them to:
feel confident in making the trip, knowing that there will be a range of clothing available in their size (instead of travelling to an op shop and trawling the racks of smaller clothing in search of plus sized items)
set a budget for clothing and stick to it (as all items are a set price, not based on their brand or size)
save money by purchasing second hand plus sized clothing instead of purchasing brand new (as plus sized items were often 5 times more expensive than regular sized clothing available at other clothing stores)
affordably update their wardrobe when gaining or losing weight
shop in an op shop that is plus size friendly, accessible and most importantly affordable
WEST Dressed sells pre-loved plus sized women's clothing (sizes 16 – 32) and is open Fridays 10am – 2pm and every second Saturday 10am – 12pm (check our WEST Dressed Facebook page for Saturday dates). WEST Dressed is located at 9 Henderson Valley Rd, Henderson.
The generous donations we receive from people in our community enable WEST Dressed to offer good quality, plus sized clothing at very affordable set prices ($1.00 to $4.00 per item) AND 100% of the income generated from WEST Dressed enables WEST to run free Becoming Financially Fit courses and workshops that support community economic wellbeing in West Auckland, including Beginner Sewing Classes, Slow Cooking Classes, Clothing Swaps, Employment Support Programmes and much more. If you have any plus size clothing (sizes 16 – 32) you no longer need and would like to donate please contact WEST on 09 8371471 or by emailing admin@west.org.nz. The WEST office at 9 Henderson Valley Rd, Henderson is open for drop offs 9am – 3pm Monday to Friday.
Since WEST Dressed opened 2 months ago we have met many wonderful people, some of whom travel long distances to visit the shop. Some come with friends, others alone, but all are greeted by our lovely volunteer Barbara who has an eye for fashion and colours. If you are not sure about an item, the colour or the style Barbara is on hand to give great advice and will even assist you if you would like to 're-invent' your style or try out a new look.
We look forward to seeing you in the shop!
Free Plus Size (16+) Clothing Swap – A Becoming Financially Fit Workshop – sponsored by WEST Dressed
WEST Dressed are running a free plus size clothing swap day for the more curvaceous woman (16+) Bring along your good quality plus size clothing and 'go shopping for free'. We will have some stylists to help you find a look that's right for you.
WEST Dressed Plus Sized Op Shop is a social enterprise of WEST – West Auckland Enterprise Skills and Training. WEST provide low cost work ready, employment, workplace training and budgeting services. All proceeds from the WEST Dressed Op Shop go toward paying the course fees for people in West Auckland to attend First Aid Certificate courses, Forklift courses and a range of other workplace certificate courses courses that support people into employment. If you have any good quality plus size clothing you would like to donate to WEST Dressed or to the FREE Clothing Swap please contact us.
Phone 837 1471 or email admin@west.org.nz or come and see us at 9 Henderson Valley Road, Henderson to register or for more information